Our logo comes to life!
There's a tractor in my carport.  This wouldn't be too unusual if I lived on a farm but I don't – I live in a suburb.  Taking pride of place on my drive is the Marlborough Farmers' Market Chairman's little red tractor that travels off to the A&P Showgrounds most Sundays (after the Market) to shovel shingle to provide dry ground underfoot in the Sheep Pavilion – it's a continual work in progress!  Meantime, feel free to wear your wellies on Sunday because what better place is there to show them off then at the Marlborough Farmers' Market?
See you this Sunday from nine til noon at the Marlborough Farmers' Market!
If you haven't already, don't forget to join us on FaceBook!
Highlights
SEEKING SET UP CREW!  We're looking for a couple of enthusiastic teenagers to help us set up the Market bright and early every Sunday for an hour and half.  Send an email if you're interested to admin@marlboroughfarmersmarket.co.nz .
Leah from Mississippi Herbs will join Annette this Sunday for a one-off winter appearance! Look for ginger spice loaf, multigrain bread, cheese sticks and fresh fruit muffins to go along with Annette's rye sourdough and all her other goodies. Some fresh herbs will be available as well.
"Say cheese" – Kaikoura Cheese that is!  Rumour has it that Daniel is back this week – yay!
Spudz n Greens are taking a well earned break this weekend – back next Sunday.
Our weekly Farmers' Market winter regulars include … Face-painting, Feast Merchants, Koromiko Eggs, Marlborough Nursery, Ngamahau Fish, Pedros, Peter the Swiss Butcher, Riverina, Traditional Country Preserves, and Koffie or Ritual.  There's plenty more stalls popping up through Winter too – look out for Nutt Ranch, Premium Game, Limrose, Garden Bees and Purple Patch.
Thinking green…
If you love trees and you're interested in making a difference to climate change, you may be interested in the following links (stuff/environment/climate news and trump forest).  Have a chat to Rose at the Marlborough Nursery stall about planting trees and grab yourself some potted colour while you're there.
Recipes of the Week – inspired by produce from Limrose's Limes and Riverina's Ground Almonds
Chunky lime marmalade
G

etting a good jelly set on lime marmalade can be tricky, and the culprit can be too much acidity. Walter Scott at Tiptree, an expert on fruit preserves, says commercial producers often use an "acidity regulator" to reduce the acidity to about 3.2 (you can check with pH paper) to achieve a better set. Bicarbonate of soda does the job just as well, doesn't leave any soda aftertaste, and should help your lime and lemon marmalades to gel.Makes 3–4 large jars

900g limes (about 9) firm with thick peels
900g white sugar
¾ tsp bicarbonate of soda
Muslin, string, a jam thermometer, jars and a pan to cook everything in

1 Cut the limes in half and squeeze, keeping the juice separate. Cover the peels with about 2 litres of water and boil gently for an hour, before removing with a slotted spoon.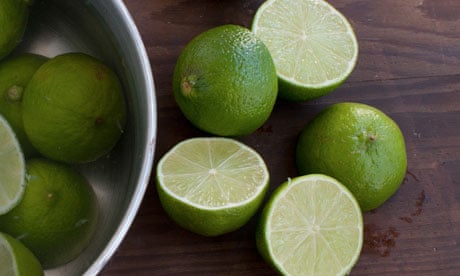 2 Scrape out the pith with a spoon, and place in a square of muslin. Tie tightly with string, like a knapsack, and place back in the saucepan. Slice the peels thinly, drop in the pan, and top up with water until well covered. Boil for about an hour, or until the peel is tender and can be broken in two easily by pressing on it with your fingers.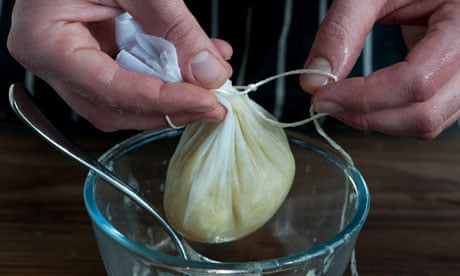 3 Scoop the peels out of the pan with a slotted spoon and put in a bowl, then boil the liquid, reserved juice and pith bag over a high heat until you have about 1 litre of liquid left. Give the bag a squeeze with the back of a spoon as it boils. For an extra-clear set, sit a colander lined with a few layers of muslin over the bowl containing the peel, then pour the cooking liquid through, leaving to drain for 1-2 hours.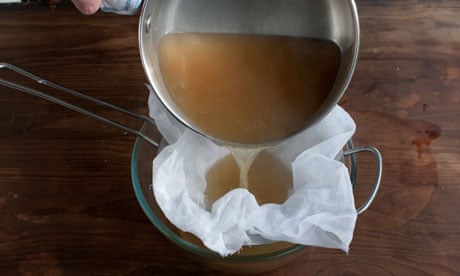 4 Place the peel and drained liquid in a deep saucepan, add the sugar and bicarb and bring to the boil. It will kick up a lot of foam at first, so adjust the heat to stop it overflowing, then get it to a rolling boil. Clip a jam thermometer to the side of the saucepan. Meanwhile, have three or four 500ml jars (or more smaller jars) with clean, tight-fitting screw lids sterilising on a tray in a hot oven.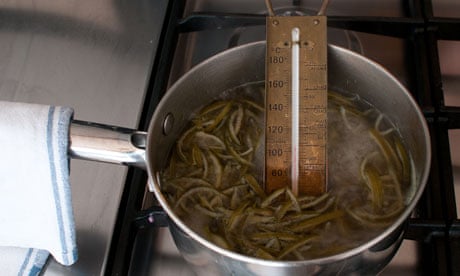 5 When the marmalade reaches 104C, remove from heat, cool for 10 minutes, then ladle into the jars. Screw the lids on tightly, using a cloth to protect your hands from the heat, and leave until cold.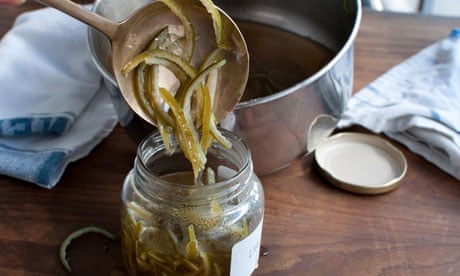 6 If you didn't use a thermometer, or could only find thin-skinned limes, your marmalade might not set. In that case, reboil it with a grated bramley apple. It will still be delicious.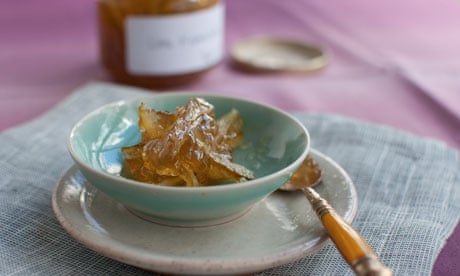 Mini lime and almond tarts recipe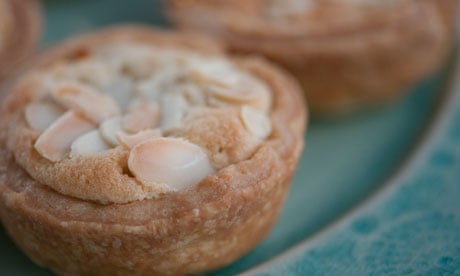 For the pastry
250g plain flour
50g icing sugar
150g unsalted butter, softened
2 egg yolks
15ml ice-cold water
For the filling
Lime marmalade
75g ground almonds
75g unsalted butter
75g caster sugar
1 medium egg
1 tsp plain flour
1 tbsp brandy
Flaked almonds to finish
1 Place the flour and icing sugar in a bowl, then rub in the butter with your fingertips (or use a food processor). Add the yolks and water, mix to a very soft paste, then pat into a block on a sheet of non-stick paper or clingfilm. Wrap and chill until firm.
2 Let the pastry return to room temperature, roll to about ½ cm thick, then cut into discs large enough to cover the base and sides of 12 muffin tray cups. Press the discs down and neatly line each pocket with dough. Freeze to firm the dough, then place muffin papers weighed down with baking beans into each cup on top of the dough. Bake at 180C/160C fan/350F/gas mark 4 for 25 minutes. Lift the papers out and bake for an extra 5 minutes.
3 Once cool, dollop a teaspoon of lime marmalade into each case. Beat the ground almonds, butter and caster sugar until smooth, then beat in the egg, flour and brandy. Three-quarter fill each case with the mixture, scatter with flaked almonds and bake at 180C/160C fan/350F/gas mark 4 for 20-25 minutes until golden.
RECIPES COURTESY OF DAN LEPARD, THE GUARDIAN